I am a big fan of Egyptian movies. I remember that as a kid growing up in Israel I used to watch Egyptian movies every Friday at 5:00 in the afternoon with my parents. It was when Israel had only one TV channel, and watching the Egyptian movie on a Friday was quite the tradition at that time.
Last night Irm and I watched the The Yacoubian Building (Rented from here). The movie, almost three hours long, was brilliantly directed and written.  Briefly, it revolves around many different characters -which either live or work in the building-that come from different social levels in the Egyptian society. The characters introduce different personal stories anywhere from love, self recognition, meaning of life, frustration, corruption, politics, and much more. I do not want to elaborate too much, as I might ruined it for you.
The Movie, also, features one of my favorite Egyptian actor, Adel Imam, which I think is a brillant actor.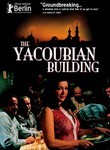 I highly encourage you to rent this movie, you will not be disappointed.