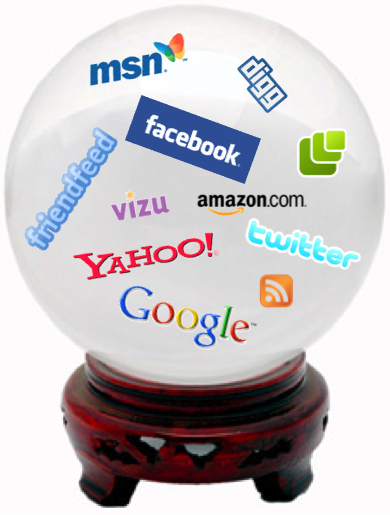 It will be presumptuous of me to attempt and predict what 2010 will look like to Social Media Marketers, developers, and ordinary Social Media users such as my wife. When looking at how rapidly the year 2009 changed the way Marketers engaged their customers, and the way Social Media Marketing literally changed everyone's lives, I think any type of prediction can not be summarized in one Blog post. In fact, judging by what I saw and read during 2009, it will be almost impossible to even sum it in a book.
With that in mind, I do want to share my 6 ideas of what we might see during 2010.
Online Purchasing: We will have an iPhone and Nexus One with a built in Credit Card device. We will be able to purchase online with our cell phone by simply swiping our credit card through a device that is built in our phones and laptops. no more typing your credit card number when purchasing online.
Apple/Google: These two companies will be the prominent leaders of the: cell phones industry; social media; computers software; software design; computer designs.
Cell Phone Companies: Apple and Google will dominate the cell phones industry. I predict that at least one company will either terminate its operations, or, alternatively, will change their role in this industry (i.e. will focus on merging with either Apple or Google [most likely Google] to help develop their phones.).
Social Media Marketing (SMM): SMM will become a trend among ALL large and small businesses. I predict that 2010 will be the year of SMM. In fact, SMM will be bigger than what SEO was in 2009. My theory is that Google is changing its "face" to a more Social Media "look" than Search Engine "look" , mainly because they predict the same.
Content: As more and more information is changing rapidly by the day (literally), reading will become a less convenient way to process all this amass information. I predict that in 2010 we will see more Videos as a way to deliver insightful content. Reading will still be a major part of receiving information, but it will be shorter, and will be accompanied by a short (60-90 seconds) video to illustrate the blogger's idea.
Social Media: Facebook, Twitter, and Linkedin will further change the "face" of Social Media. I predict that Twitter in particular will emerge as a combination of Facebook and LinkedIn combined together. This is by far the most daring and presumptuous prediction on my part, but I thought of giving it a try.
These are my 6 predictions. What do you think? Do you predict the same? Do you think I am wrong? Or, maybe you want to add something of your own?
Share your thoughts with me by commenting below.
Happy New Year!